Recreate Lost Receipts, No Fake Receipts, Drug Co-Pay Receipts, Fast Food Receipts, Restaurant Receipts,
2 types of Restaurant Receipts
Credit Card Receipt or Order Details
Check out both of these Receipt - Slide Show's
Pharmacy & Drug Store Receipts, our restaurant style receipt can also be used to re-create medical receipts for any co-pays you need for tax deductions where a copy is needed.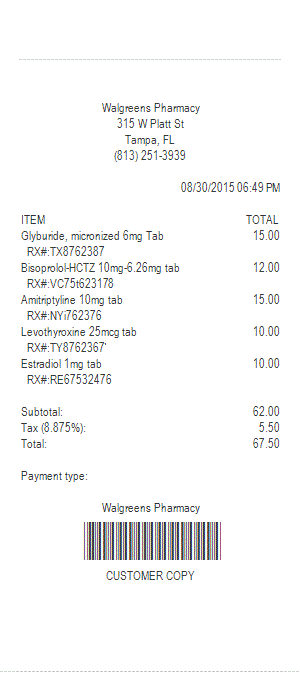 We specialize in helping YOU recreate the following: fast food receipts, gas receipts (2 sizes), full service restaurant receipts, credit card receipts, entertainment receipts, bar receipts, lost pharmacy receipts or medical co-pay receipts and many more. Please download and try our free, fully functional DEMO version before you buy. The free DEMO will not save or print your creations.
Fuel Receipt can be created with or without a company logo.
Cash Receipts, Debit Card Receipts, Credit Card Receipts
Everyone in sales needs to save receipts for their expense reports. You lose them we help you recreate them or you can create all new receipts